Over the years, one of the things that has baffled me most is that there are still people out there willing to risk their hard-earned cash by investing in 'unproven' franchise opportunities.
The franchise business module is a complex legal entity that requires a serious amount homework before committing to it. And I'm not going to mix my possibilities with my capabilities by trying to discuss the legal related part of this business structure.
But based on my expertise as a brand strategist, I don't understand why people would invest into a 6-month old franchise enterprise when the business doesn't have any brand awareness or equity in the market – and doesn't have any procedures in place to support its franchisees. In some cases, I have seen franchisors that don't even have a decent website – forcing the franchisee to invest their own money to promote 'the brand' – which is owned by the franchisor.
Perhaps after three or four years from its formation, the franchisor may start to invest money (which they've collected from struggling franchisees over the years) into the brand through advertising or by improving its systems and procedures.
Then the next thing you know, the 'motherland' starts to charge additional fees to deliver 'leads' and support to its franchisee network. It's a wicked cycle and sadly, it's one that I've seen repeated again and again.
Occasionally, we get calls from disgruntled franchisees looking to 'jump ship' and start their own business. And it is only then that they realise that they have an even bigger challenge legally to extricate themselves from their franchise agreement.
I'm not against the franchise module personally, and there are a plethora of good stories out there if you know where to look. But I do ask people to be vigilant and do their own homework before committing. Read websites like 'unhappyfranchisee.com' and check that the brand doesn't have a 'reputation' issue. Then check to see if this brand has a strong market presence to justify the commercial umbrella arrangement that they are offering.
Ultimately, if you are an ex-office clerk or a retiree who is not confident with the commercial world, seek independent advice from professionals or industry experts. Join chat groups, ask lots of questions and then, if you decide to pursue with this avenue of investment, engage a good lawyer to make sure you are not giving away everything – including the kitchen sink!
But please, if you are at all unsure – or if the numbers don't add up – try looking at things from different perspective.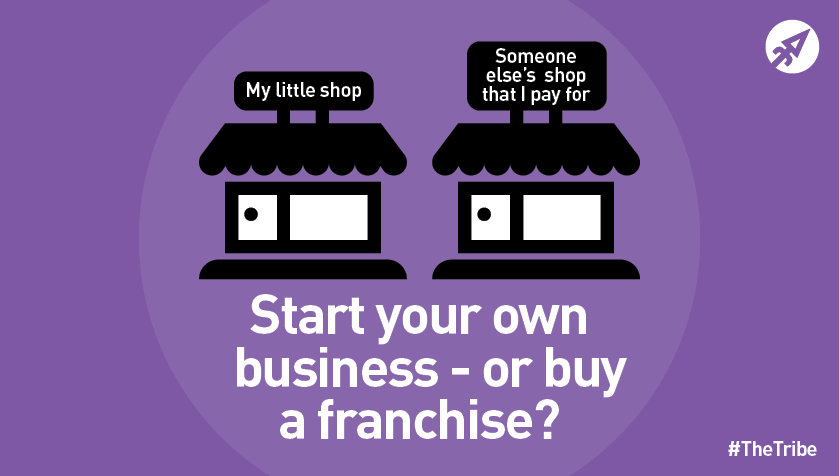 In the past 5 to 10 years, largely thanks to digitisation, starting your own business is much more cost effective than it used to be and there are really cheap options out there to get you started, for example, you can get $5 logos and $50 per month cloud based websites. Note: we don't endorse these options but they are out there.

Or better still, engage a well-equipped advertising or marketing agency to build you an effective brand and provide all the communication tools you'll need to get your new business started. You'll still need a good accountant and lawyer of course, but at least you'll be paying for services and tools that you control – and that are not owned by a master franchisor.
In summary, if you are looking into a new business venture, there are two key factors to consider – time and money. You can speed up the 'time' part by investing in right places and a good franchise module should offer this, as you are paying 'them' to be your umbrella. Or alternatively, if the franchisor doesn't offer the right tools, isn't it better to start from scratch, and spend the money with professional marketers to buy yourself the time?
Dom Ogun
Head of Strategy